S

olution Service


SOLUTION SERVICE
SIP/VoIP Security Audit
NextGen's SIP/VoIP Security Consulting and Vulnerability Audit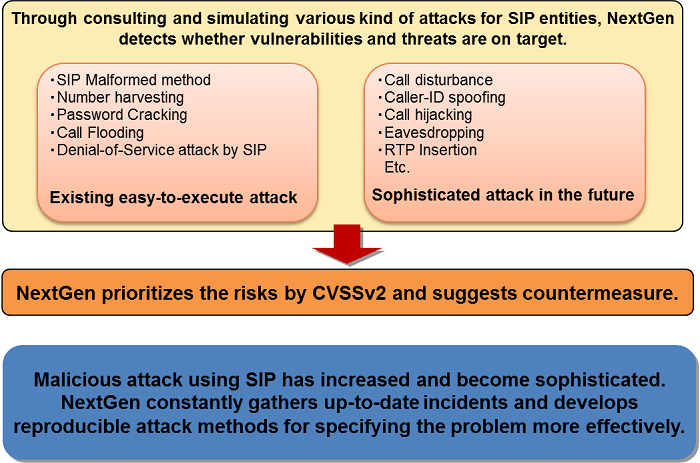 Security consulting services targets UC & IMS systems using SIP protocol.
Service includes Q&A for specification, usage, and testing by way of pseudo attack.
Fully customized consultation/diagnostic check suitable for customer's network environment.
Verify both security threats and vulnerability.
Diagnostic results report details security risk analysis with severity level and proper countermeasure.

Benefits
For Execution:

Requisites to perform security and vulnerability audit as follows:

Gather security incidents on daily task (Security incidents information are limited in public)
Own test tools to execute abnormal testing (special device is necessary)
Well trained engineers (There are small number of engineers with the knowledge of both VoIP/IMS and security)

NextGen's diagnostic service accommodates customer to be able to:

Make security threats and vulnerabilities visible
Prioritize the problem
Compare the chart(what chart?) with 130+ pre-executing diagnostic trend
Properly countermeasure with considerable cost
Improve PDCA cycle with the valid security policy
Why NextGen
NextGen is the first company to deliver VoIP/SIP security auditing services to telecommunication carriers.
You may rely on NextGen associates with their extensive background of Information and communications technology.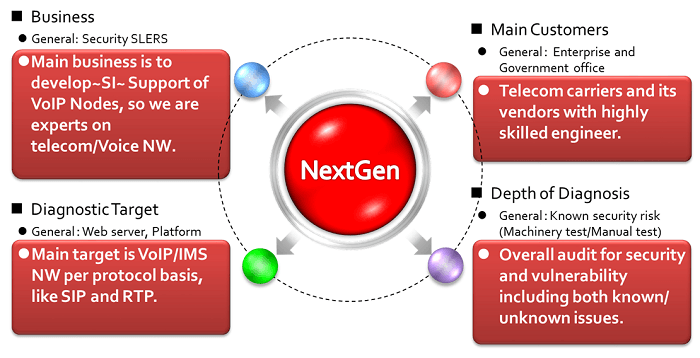 Audit for

Telecom Carriers
Mobile Operators
VoIP/IMS System Vendors
VoIP/IMS System Integrators
VoIP/IMS System Integrators

Diagnosis Target for (Any system using SIP)

Unified Communications Server
IMS/NGN SIP servers (CSCF)
Session Border Controller (SBC)
SIP-NAT system
IP-PBX
VoIP GW
SIP Phones
M2M Systems
IM/Presence system

Testing Protocol (IPv4 and IPv6 support)
Customer's cases
Consulting over 130 devices/networks.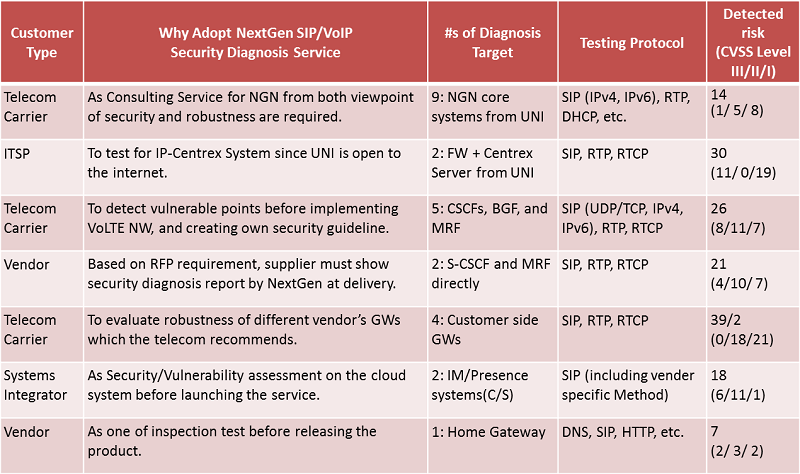 Standard Diagnosis Test Items

We have automated diagnosis tool to execute 4.5M items as well as manual testing.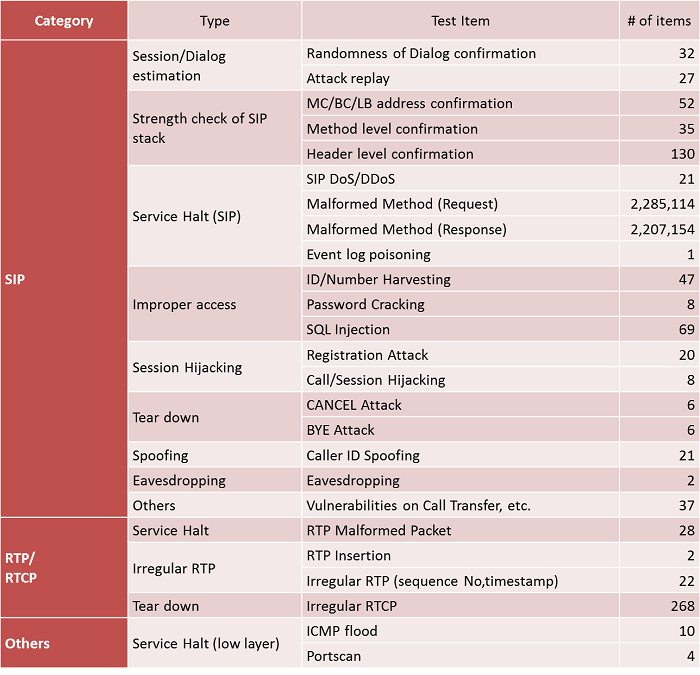 The test items were identified in Apr.2013. The actual # of test item differ by 20 ~ 50% after Q&A session.
Standard Procedure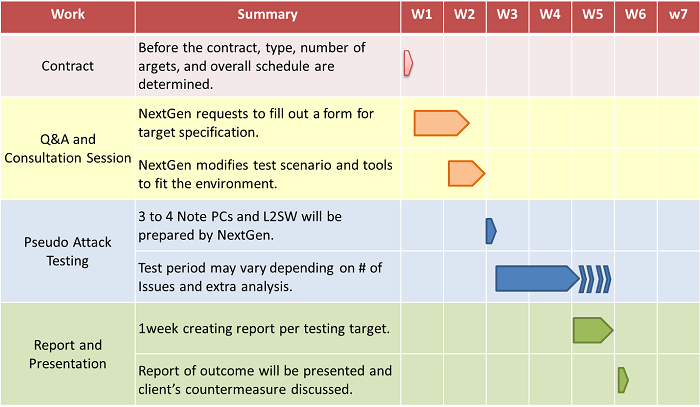 For sample report and detail information, please feel free to
contact us!